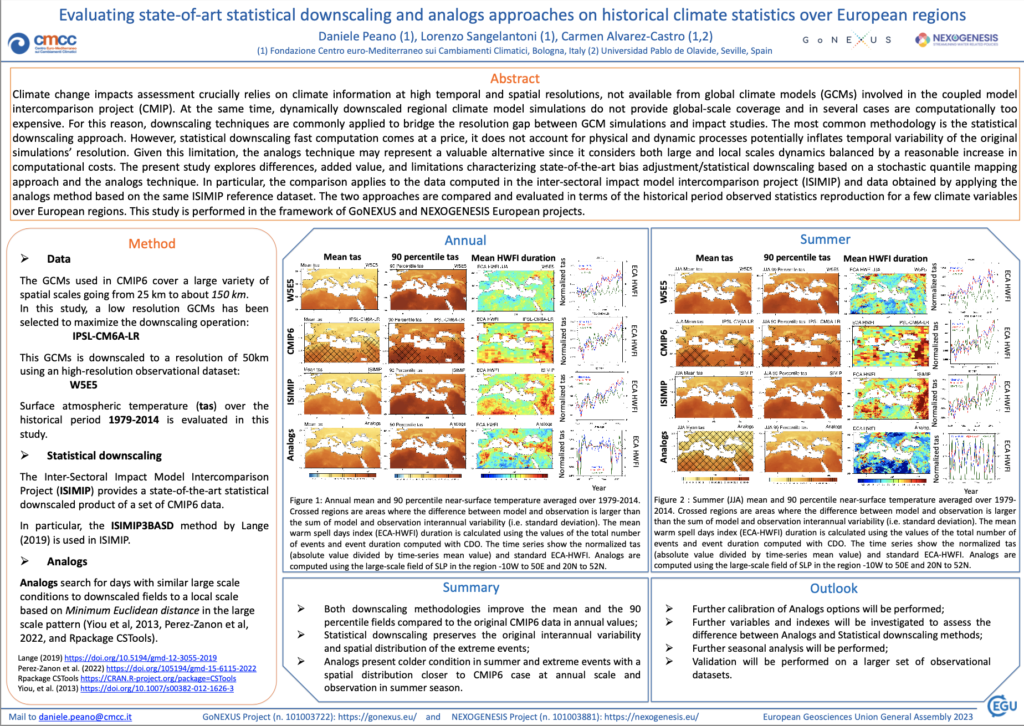 New global climate models poster explained
During the recent EGU 2023, Daniele Peano from CMCC shared a poster entitled "Evaluating state-of-art statistical downscaling and analogs approaches on historical climate statistics over European regions" detailing the global climate models for the project. Check out the poster here! To understand the poster best, read more below about what global climate models mean for the scientific research of GoNEXUS.
In the GoNEXUS project, global climate models have been employed by scientists to be used as "tools" aimed at performing experiments helpful in studying past, present, and future climate conditions. These tools are prepared to investigate changes at a global scale. However, assessment of climate impact requires information at a local scale. Many methodologies have been developed to transfer data from global to local scales (downscaling). In this poster, we compare the results obtained using two downscaling techniques, namely statistical downscaling, and analogs. This comparison evaluates the spatial and temporal differences between mean conditions and extreme temperature events (i.e. warm spell days index) over the 1979-2014 period for annual and summer mean conditions. These two techniques differ mainly in the representation of extreme events at the local scale, while the produced mean conditions are comparable.
This poster was a collaborative effort between the GoNEXUS and NEXOGENESIS projects.